Event Safety: How To Ensure The Safety Of Guests And Staff As An Event Planner
This are no interesting times for anyone who is operating in the event space due to the current lockdown.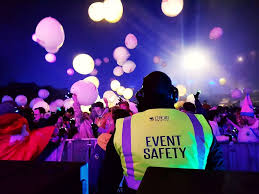 However, the time can be utilized by stakeholders to learn so much on the subject matter above.
The event management industry can also simply be described as the "people management industry" which of cause deals with the safety and wellbeing of event guests, site workers and the planner's day-to-day employees.
One major responsibility of an event planner or manager is to ensure that the people setting up, breaking down and attending the event are not exposed to untold hazards.
In a bid to achieving an excellent event outcome, the duties of an event planner also includes; having health and safety arrangements in place to mitigate risks,
ensuring cooperation and proper coordination of work activities,
providing employees and others with relevant information on any risks to their health and safety, ensuring the competence of staff to undertake their role safely, monitoring health and safety compliance policies as well as reviewing of health and safety arrangements.
Specifically as a planner, my experience in project management taught me that before any activity is carried out, there must be risk assessment.
Before an event is executed appropriate management systems must be put in place to ensure health and safety risks are controlled at every phase.
To minimize hazards, it is important to provide employees with relevant information and training on any risk to their health and safety identified through the initial risk assessment.
In event planning, there are various ways to be exposed to hazards and that is why there is a great need to carry out general site induction and briefing about individual responsibilities.
Planners may also want to provide relevant information to the guests on
site hazards and control measures which includes buried services such as electric cables, safe speed limits, safe parking spaces, First aid, toilets and other facilities.
Event planners should be able to provide their employees with the appropriate information and trainings prior to the event execution on ways to control and manage certain risk. By this, employees become competent to undertake their role safely with an understanding of what and how it should be done.
For smaller events, it is important to have a checklist of all areas and precautions to take while for larger events a number of people should be assigned to the role of monitoring.
Whoever has the role should be familiar with the risk assessment findings and control measures and should be able to identify new dangers as well as assess risks as they arise.
Planners should be willing to provide intensive trainings to their employees about Health and Safety to enable them tackle sudden challenges that may arise in the course of their event.
One practical case study that taught me the need to empower my employees with the right training on health and safety was when we were in the process of planning a wedding.
We had lots of onsite arrangements and restructuring to do and in the process, the person in charge of the electrical connection made a mistake in the connection but because everyone working on site was already aware of the dangers that may arise in the connection process, we were all able to take immediate steps to tackle the challenge. That's being proactive.
Event planners should not only get an assessment of risk and dangers but set in place were the health and safety of everyone at the event is guaranteed such as emergency management.
Guests who attend an event may have no clue about what to do or were to go, it therefore important to sufficiently inform the staff present on how to direct guests to a safety zone in the case of an emergency.
Staff should also be aware of how to initiate an alarm and are aware of necessary action to follow in the event of alarms.
Provision of First Aid Kits:
A staff or guest may get involved in an injury or become ill and will require immediate attention. It is important to ensure that first aiders are sufficiently present to handle these challenges immediately.
Display of instructions and signs for guidance.
This is a key activity in the planning process to ensure staff and guest are sufficiently informed of everything that goes on at the venue including seating arrangements, the direction to the restroom, instructions on how to use the available amenities, parking instructions and item protection.
This is to eradicate ignorance of things at the event and to ensure everyone is appropriately guided.
The production of beautiful events starts from ensuring that the comfort of every individual at the event is guaranteed this is why event planners go the extra mile to ensure the smooth run of things by taking into consideration the tiniest of detail to provide everyone with the ultimate satisfaction and event experience.
Author's Profile:

Freda Anyanwu is the Creative Director of Kaycee's Events a luxury full service event management company that specializes in premium event planning for both individuals and corporate clients.
She was a nominee under the Event Management category of SME100 Africa's 25 under 25 Nigeria's (2019) Enterprising Youth. Her brand was recognized by MAYA Awards Africa. She has also been featured on Entrepreneurship blogs and online articles as a fast rising entrepreneur in Nigeria.
Author Profile
Latest entries from the author