Safety Spotlight: SCSP Limited Making Giant Strides
There has been a huge rise in safety awareness and practice in the 21st century, all thanks to organizations and individuals who are dedicating themselves to the noble course. One of the contemporary organizations serving sub-Saharan Africa, by championing safety subject, is Safety Consultants & Solutions Provider (SCSP) Limited.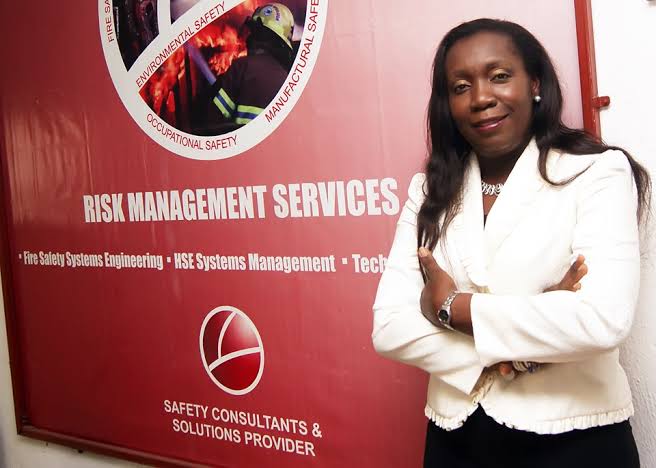 Since the year of its existence, the company has been making giant strides in providing quality and widely tested safety and security solutions to all businesses. It is one of those company identified to be recording huge successes in that area.
The success of the company cannot be unconnected to the founder, Antonia Beri, a woman making a difference and setting progressive standards in the safety industry as a, if not the only, female facilitator of Technical and Process Safety Services.
A river that flows water in abundance always has its source to thank; that's the case for Safety Consultants & Solutions provider Limited also. The founder, Antonia Beri, is sure making her remarkable feat as a safety consultant to reflect on the output of the company.
Antonia's name is not an unfamiliar one in the industry. As someone who is championing the bridging of the knowledge and skill gaps in the safety industry, she has built her company to advance the highest standards of safety regulation and education.
SCSP is, undoubtedly, enabled to promote best practices in compliance to local and international codes through the provision of professional compliant safety solutions and certification, because Antonia has, since the outset of her safety career, committed to training people on Corporate Governance, Capacity Building, Consultancy, Standardization and Advocacy.
To strengthen the Life, Fire & Safety Risk Management sectors ability to respond efficiently and effectively to all crises scenarios and to help reduce the incidence of loss of lives and properties, she committed her capacity-building training to ensure a sustainable pool of at least five hundred (500) well-trained emergency response personnel are produced every year.
She has always proffered targeted and strategic solutions geared towards public and private sector initiatives on Life, Fire & Safety Risk Management that forms the decisions on topics like Compliance, Regulation and Business Continuity.
Evidently, she evolved SCSP to meet industry need and using it to promote global best practices in safety.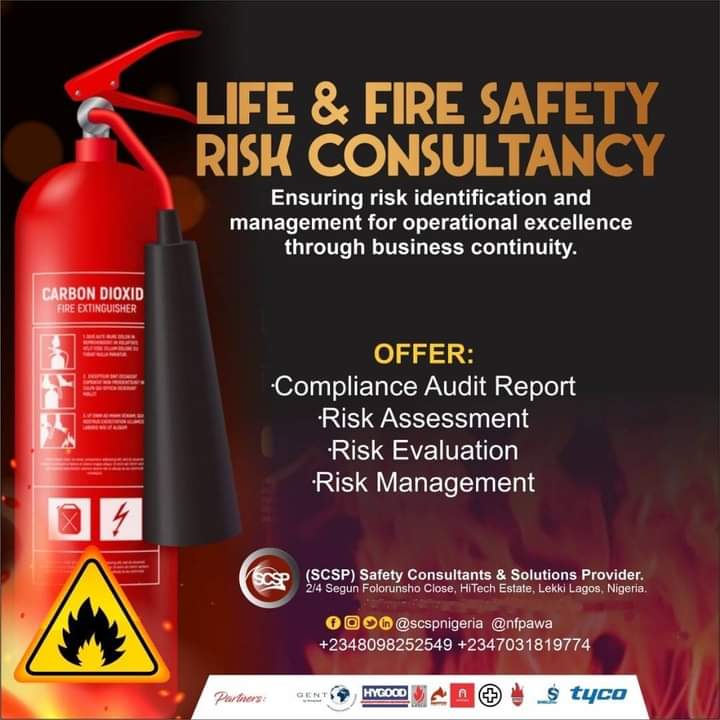 As a company that provide innovative consultancy and engineering solutions in life, fire and safety risk management, SCSP partners with regulatory authorities, public and private sector enterprises committed to best practice to offer programs not limited to the perspective or styles of corporate enterprise management, but also facilitating avenues for Security, Fire and Life Safety solutions advocacy.
SCSP also provide anti-disaster management field training for the utility, security and emergency management sectors.
With the help of the formidable team built to sustain the vision of the company, every project the company oversees in all areas of life, safety and security risk management is treated with great expertise and dedication from design to the implementation phase.
A priceless show of their concern for safety and consistent advocacy for best practices is the company's decision to sponsor
Africa's leading health and safety award- AfriSAFE.
SCSP is indeed a business that serving both for good & for-profit and it is where numerous professional is trained in the discipline of life, fire and safety risk management with a perspective of Sustainable Macro Economic Development: The Safety Perspective.
SCSP is located at 2/4 Segun Folorunsho Close, Hitech Estate, Lekki-Ajah, Lagos Nigeria.
The company's website is www.scspng.com.
Contact them via Email: info@scspng.com
Contact them via Call: +12404495996, +2348037267341
Author Profile
Smart Olawale is a Journalist (writing for HSENations), Marketing & Communication Enthusiast, Digital Marketer, Speaker and Educationist.
He holds a B.Sc Degree in Mass Communication from the prestigious Olabisi Onabanjo University.
Need Ideas? He's only a call away.